Hey Reader,
Busy like a bee... 🐝 Did anyone else feel the energy suddenly kick it up to level 12 on a 10 dial?? This weekend we are having the Lunar New Year 🧧, a gorgeous new moon to kick off Aquarius season 👽, and Uranus brings up the rear by going direct on Sunday, January 23... the last of the retrograded planets.
Whatever shall we do with ourselves??? 😜 Well, you, me, and everyone are about to do our greatest impressions of the Little Engine That Could. 🚂 I think I can... I think I can...
As we walk through the doorway of The Year of the Rabbit 🐰, I encourage you to celebrate Asian culture by being generous with your local Asian owned businesses. And also! Remember to stay focused as this fresh energy kicks off. It's already feeling very strong, which can get distracting and un-productive if you don't give it some strong boundaries.
I'm celebrating the energetic door opening, leading us to the 2023 Incubator with the Bundled Mastermind. You can see the full information, below, and I really hope you join us in the space if it feels right to you! As always, if you have questions about anything, feel free to hit 'reply' and I'll be here for you.
~McG 🥠
P.S. - The early bird waitlist is open for Incubator if you want to put your name down! I'm sending the sales page to this list first before the end of January. It comes with a satisfying discount to add some ease into your life. That's my way of thanking you for commiting early. 💕
---
tip of the week
My biggest lesson in abundance over the years has been around making space for it... and then being in an attitude of receiving. But first, you have to make room if anything is going to come to you!
We do this through activating your personal fulfillment quotient. In this week's video I break it down for you. Once you see it, you can't unsee it. 🤓
Becoming comfortable being ALL OF YOU, out in the open, can feel vulnerable... but it's seriously your new year's power tool. This thought exericse on personal fulfillment will have you looking at the ways you compartmentalize your life & business.
Here's what I am inviting you to take action on this week:
Watch the video and leave me a comment about your experience finding your way through a both/and existence. What feels great this year already?

​Subscribe to my channel so you don't miss more of this... bonus points for sharing with friends. 💕
​
---
attention worthy
Since it is the Lunar New Year, I thought you might enjoy a little foodie addition to our weekly missives. 🤩 I am Taiwanese-American, I was born in Taipei, and I spent about half my childhood overseas. One of my favorite traditions at this time of year is a new year's sweet rice cake called Nian Gao.
Thanks to the 'grams, there are a ton of videos this week celebrating this delicious dessert! It's gluten free, which is now a mandatory thing in my world (you can meet my nutritionist, Lindsey, at the Bundled Mastermind if you want to know how we cracked the code on my chronic health problems), but full of nostalgia and memories.
If you need to add in some Asian taste this weekend... give this a try! If you're a mochi nut, this will be like 10x'ing the satisfied chew in your mouth. 😛
---
offerings
The bundled mastermind is here! I'm so excited this formed naturally without a ton of angst or rushing. This is The Vibe for this month of events, y'all. 🫠
Last week you got a sneak peek with the welcome video and you'll remember that I have a lot of goals to share with you through this super special container:
There are people I've collaborated with publicly and privately over the past year who have helped me change my life in dramatic ways. I've gathered them together to share their expertise with you in live interactive sessions.

Passive bundles of courses are so 2020... We are definitely in an age now where we need to actively participate and interact with one another. It helps us figure out what we actually need to do next and who can help us.

I want to normalize the presence of PAID OFFERS. The more this is normalized for you, the more you're going to feel normalized about your own offers... and it honestly is a magical ingredient for generating more revenue.

In my recent experience, too many people are not getting real mastermind coaching from programs that claim they offer a mastermind experience. This bundle of live sessions is meant to give you a quality experience so you can determine if you need group services or 1-on-1 this year.

And... the cart is getting ready to open for the 2023 Sensible Woo Incubator! This mastermind container kicks it off and I hope that by watching me launch it gives you an honest window into the offer and the process.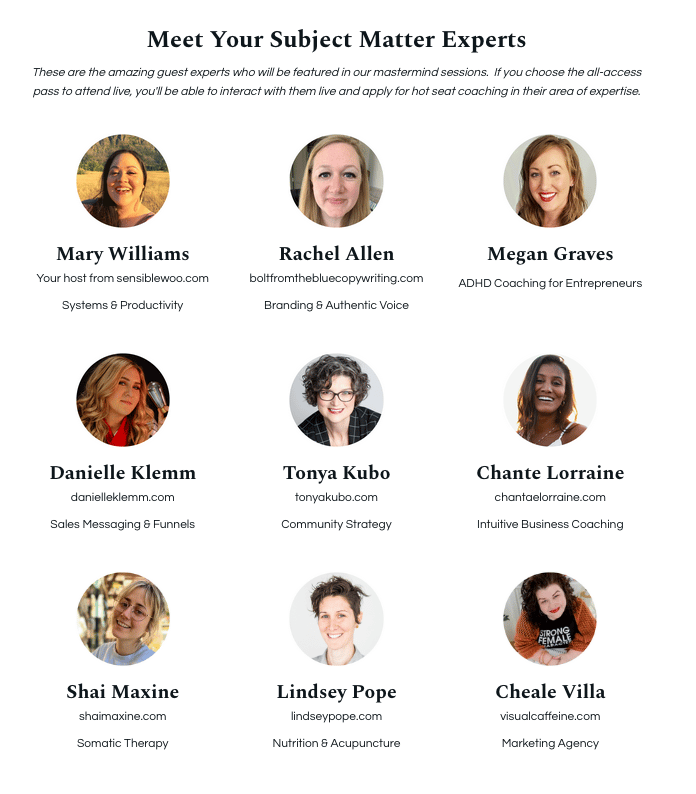 Looking for the schedule of sessions?
You can get that right on the info page when you click this button, below:
---
​
this week's message
Take a moment to feel into the center of your body... don't over think this! Which of these images do you want to click on?
Enjoy your reading. 🤗
​
---